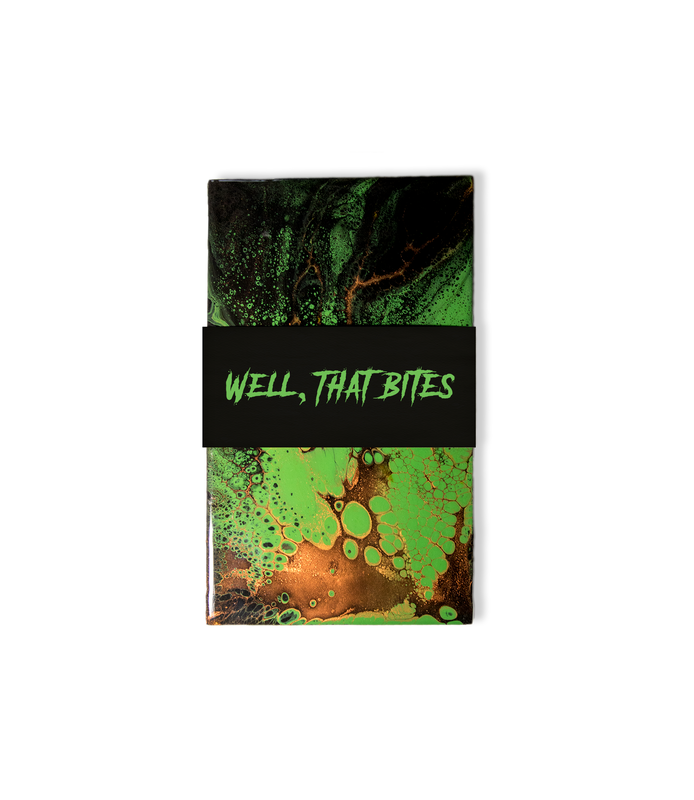 Well, That Bites
Synopsis
Twenty-five and a half hours after being infected by a zombie bite, the virus begins attacking the human brain and nervous system. Not long after, it transforms the body into a walking, breathing, eating rot bag. Personal accounts of one unfortunate being is narrated both forwards and backwards in time, dependant on which way the book is held. Frontwards shares the story of agonizing symptoms, backwards is filled with life regrets as the bigger picture is made clear now that death is imminent. Documentation is recorded by person(s) unknown.
Behind the Project
The aim was to create an experimental object by combining art media with digital manipulation in order to create something unanticipated and highly exploratory. Well, That Bites uses an abstract approach by utilizing acrylic pours, alcohol inks, and torching techniques on several canvases which were then photographed and manipulated digitally in order to create one continuous accordion-fold. The book cover consists of two panels of wood with acrylic pours applied on top, and then covered with a hard resin which gives it it's shiny glass-like appearance and smooth touch.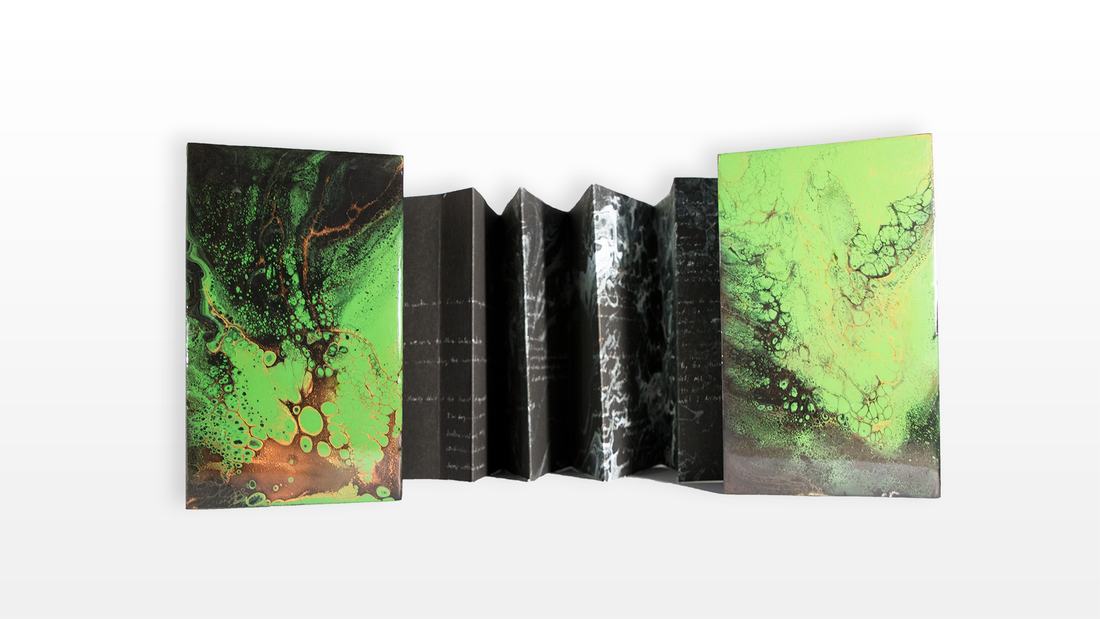 ---
The Process
I began by practising and experimenting with acrylic pours by filling up plastic solo cups with various acrylic paints and alcohol inks and applying them to blank canvases. I would then pick up the canvas and tilt it in different ways to move the paint around. I also used a hand torch to remove any bubbles on the painted surface of the canvas. Torching the canvas would also react with the alcohol inks by evaporating the alcohol and would create interesting cell-like textures. After experimenting with about six different canvases, I photographed them and left them to dry.

I found that after the paint had dried, the colours became very dull and not even close to as vibrant as the wet paint. In knowing this, I proceeded by using the photographs I took of the wet canvases and manipulated the imagery in Photoshop instead of using any photography of the dried canvases. In order to create the long accordion-fold, I combined numerous photos taken of the canvases in order to create one continuous image, and changed it to black and white in order to contrast from what was happening on the vibrant book covers. I also manipulated the imagery in a way to make it start from dark and less detailed, to brighter and more white with a lot of detail. This gradual transformation is an abstract illustration of the zombie virus taking over the human body. The heavier the detail and white became, the harder the lettering would also become harder to read and illegible. This went along with my concept of a zombie transformation. The overlaying text was written by hand and was written to be gradually messy and illegible.

In order to create the book covers, I used the same acrylic pour techniques I had been practising with earlier with the canvases. By this time I had become more confident in my ability to create zombie-like abstract imagery by manipulating acrylic pouring techniques, so I went ahead and covered two small panels of wood with the acrylics and alcohol inks and then used the hand torch to create cell-like patterns and remove any bubbles. In order to create the smooth and glass-like finish, I applied a hard resin over top of the wood panels once the paints had fully dried and used the torch to remove any bubbling. Since resin is a self-levelling medium, I had to be sure to use a level to balance the canvases on stands (aka canned vegetables and newsprint) so that the resin would dry as one balanced layer. The resin brings vibrancy to the dried acrylics and makes them look as they did while they were still wet.

Working with resin and acrylic pours was quite the learning curve and a lot of fun! In the future I'd like to experiment with these materials further. I'm in the brainstorming stages of turning this into a series of three...the other two being stories about a werewolf and vampire transformation.