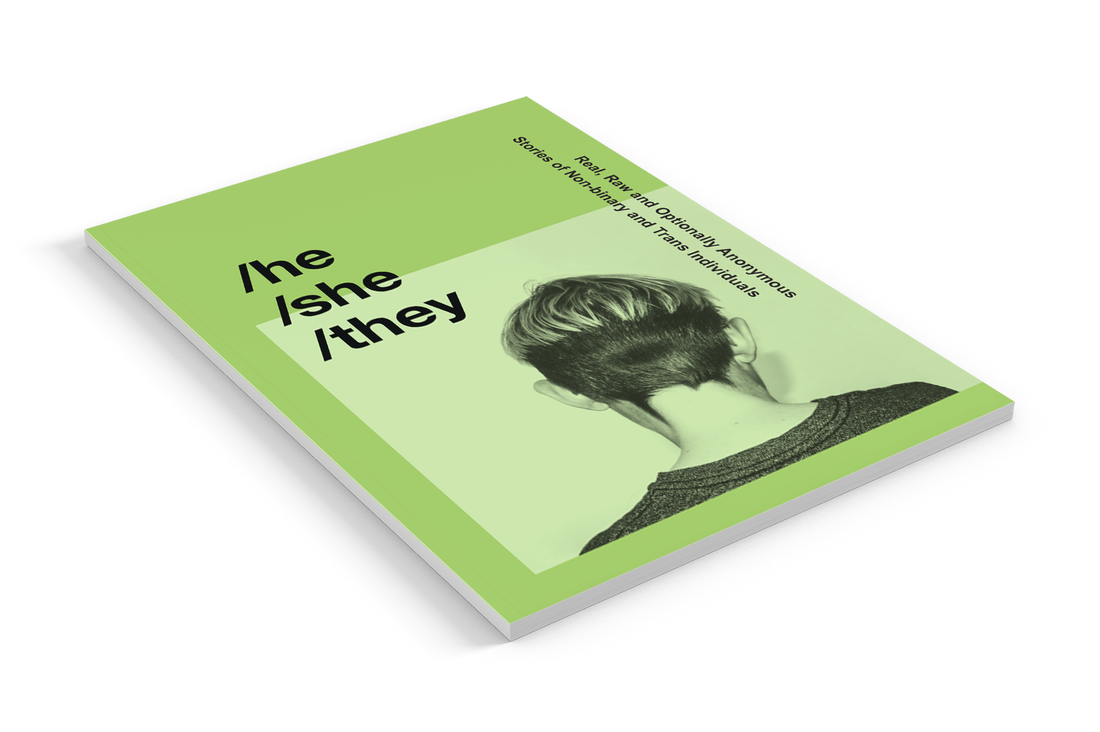 Behind the Project

The vast majority of us are not thinking deeply about gender in our society and are skimming

the

surface

about

such

topics. How

often

does

the

average cisgender

person

think

about

their

gender

identity

on

any

given day Once...twice... if at all? Do cisgender people know what cisgender means? And how often are non-binary and trans people faced with thoughts and questions regarding gender? The last answer is simple—every single day.

Gender surrounds us. The pronouns we use to refer to one another, our mannerisms and behaviour, trucks for boys and dolls for girls. Shopping malls insist on separating their clothing stores into 'mens' and 'womens' sections, and we base our purchase decisions on these two separate categories that have been divided and pre-selected for us. Take one single glance down the shampoo and self-care aisles and the gendered division is there waiting to smack you in the face with the pinks and lavender purples versus the black, greys, and blues. The city is jam-packed with public washrooms asking us to choose between the triangle-skirt and pant-wearing symbols labelled on door entrances. Surely, implementing universal single washrooms would solve a hell of a lot of issues for people that are either for or against allowing non-binary and trans people to use public washrooms and the safety thereof, not to mention the benefits for families with children and people with disabilities, all while increasing privacy for all—but, we will save that loaded debate for another time and space.
The Question
How could I bring transparency to these separations that are so prevalent in our lives yet so over-looked to the point of being second nature to us; a separation we are so used to that we barely ever notice. Which comes the even harder task of bringing transparency to the non-binary and trans community in a way people will connect with. It's obvious that we don't think twice about these subjects unless it directly affects our own lives or the lives of loved ones in some way. That is not to say that we are negative or ignorant, but we empathize and connect most oftenly with people that are closest to us, people that we understand, or share similar opinions and interests with. We embrace the familiar, and we fear the things that we don't understand.
Means to a Solution

If we connect most with people and things we best understand, perhaps the opportunity of delving into intimately told real-life stories and perspectives of non-binary and trans people will help bridge the gaps between people that are unfamiliar with gender variation, with those whom deal with it on a daily basis.

Committed to approaching gender in a transparent manner in order to bring greater visibility to the non-binary and trans community,

he/she/they gathers a collection of honest and uncensored experiences and perspectives of an inclusive group of non-binary and trans people from contrastingly different backgrounds, gender identities, and ages ranging from eighteen to sixty-five, living in greater Toronto and the Niagara Region of Ontario, Canada. The collection of stories walks readers through raw insight, childhood recollections, personal struggles, triumphs, as well as advice, tips, and knowledge about gender identity and gender variance. Participants were given the option to remain anonymous by choosing a fictional name, and all photography has been staged in a manner which does not reveal personal identifiers. This had to be done without the worries of people 'outing' themselves if privacy was preferred since the subject matter is extremely private for some. Safety or other personal concerns also needed to be considered in a sensitive manner. The option of anonymity also allowed an opportunity of speaking freely about whatever crossed their minds without worrying about who may be reading.

The stories we do see online or on television are those of non-binary and trans advocates who are out and loud about their identities, primarily people of the ages twenty-five and younger. I want people to be able to visualize their own lives as non-binary or trans past early adulthood. It's also rare that we hear from people that prefer to remain quiet and away from the spotlight, yet they have such unique perspectives to contribute and there is a plethora of perspectives out there that we're truly missing out on. I needed greater inclusitivity and variety. /he/she/they allows an equal opportunity for both the loud (but mostly quiet) to be heard, and shares stories from a highly inclusive group of people from contrastingly different backgrounds and gender identities, ranging from ages eighteen to sixty-five. The majority of the individuals gathered to share their stories are over the age of twenty-five.
Looking Forward
It is my greatest hopes that readers will gain a new and enriched perspective regarding gender identity and its prevalence in our society, and that it will encourage being mindful of the everyday personal struggles and triumphs of those who often go through great lengths to simply be themselves. I hope to relate with queer people that may be experiencing similar situations or struggles and I want them to know that as unique as their situation may seem, they aren't alone in what they are experiencing. My plan for
/he/she/they
is to speak about gender in a transparent manner in order to bring greater visibility to the non-binary and trans queer community.